We have difficult news to share:
Today we learned that Fulton's heart has stopped beating. At an OBGYN ultrasound no heartbeat was detected. Elise had not felt any movement for a day or so. Our medical team at OSF confirmed via ultrasound that Fulton has gone to the Lord.
To be very honest this news hit us like a bus.  Although we were praying hard for a miracle we were planning for the likelihood that Fulton would have short-life once born. We planned for a little baptism.  We also planned to just hold him while playing some pretty music in the background while he was comforted in our arms.  Although this is difficult we are confident in God's plan.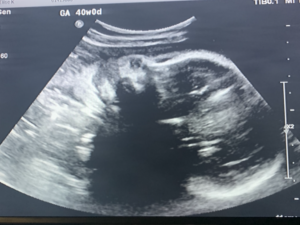 Like so many people around the world we have been praying hard for a miracle for a complete healing. But we have also been praying hard for God's will to be done. And so even though the outcome is not what we wanted it is in a way what we prayed for – God's will. We take comfort in knowing our little Fulton did not suffer. As a few of our close friends have pointed out he "went from the womb to the Lord's arms."
Further we cannot help but to take a second look at the 39-week screenshot from his ultrasound and wonder: perhaps our little Fulton had a very special escort to Heaven.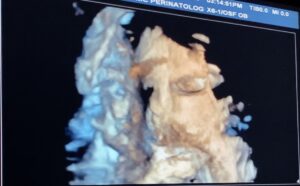 Tonight we decided to come home and be together as a family with all of our children. Tomorrow our medical team will induce and Fulton will be delivered. We are told our pastoral care team will provide a special blessing. In the days ahead we will also plan a service and funeral. I don't know what to expect because I have never been in this situation before. But I do know we have been surrounded by such an outpouring of kindness and love from family, friends and from people we have never met.
People keep saying how much our little Fulton has touched their hearts. People have shared incredible stories of their own loss. We have made new friends and we have been united with so many brothers and sisters in Christ from around the world. What a blessing it has been to see how Fulton's life has brought so many people together in faith and prayer. Elise and I are so proud to be Fulton's mom and dad.
Please know that each of you are in our prayers. You have helped our family to carry this cross. The days ahead will be difficult but we are joyful that God blessed us with Fulton for the last nine months.
We'll have additional updates soon.
United in prayer!
Royce
Ps. We just want to say thanks! Our medical team including our private care doctors and the team at OSF have been so kind, gracious and supportive. We are so grateful for our family, friends, neighbors, strangers and our friends at St. Jude Parish. There are so many people and groups we wish to thank for their kindness, love, support and prayers. We will do so in the coming days. God Bless!